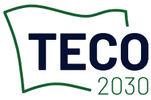 TECO 2030 ASA: Ex date share split
The shares in TECO 2030 ASA will be traded according to the announced split 1/10 as from today, 03.03.2021.
Disclosure regulation
This information is subject to the disclosure requirements pursuant to section 5-12 of the Norwegian Securities Trading Act.
About TECO 2030 ASA
TECO 2030 (OSE: TECO-ME) aims to tackle one of the biggest environmental challenges of our time: How to combine growing global shipping volumes with reduced emissions. We believe the shipping industry can move to zero emissions by implementing new technologies, with hydrogen-based fuel cells as the ultimate solution. TECO 2030 – powering the maritime industry's transition to renewable energy.
Subscribe to our company announcements
Keep up to date with our company announcements by subscribing.
Visit our pressroom and see more company announcements from us.
Our pressroom