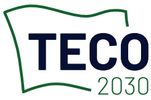 TECO 2030 Share capital increase registered
(Lysaker, Norway, October 22nd 2021): Reference is made to the announcement by TECO 2030 ASA (OSE: TECO) on October 7th 2021 regarding the private placement.
The share capital increase pertaining to the issuance of the new shares has now been registered with the Norwegian Register of Business Enterprises. The Company's new registered share capital is NOK 1,313,698.14 divided into 131,369,814 shares, each with a nominal value of NOK 0.01.
Disclosure regulation
This information is subject to the disclosure requirements pursuant to section 5-12 of the Norwegian Securities Trading Act.
Contacts
Tore Enger
Chief Executive Officer (CEO) of TECO 2030 ASA
About TECO 2030 ASA
TECO 2030 accelerates the green transition in the maritime sector by delivering technology that helps ships to reduce their environmental and climate impacts. TECO 2030 is developing hydrogen fuel cells that enable ships and other heavy-duty applications to become emissions-free. The company is also developing other solutions that can help the maritime industry to reduce its emissions, such as exhaust gas cleaning and carbon capture systems for ships. TECO 2030 was founded in 2019 and is headquartered at Lysaker, Norway. The company is listed on Euronext Growth on Oslo Stock Exchange under the ticker TECO. TECO 2030 has its roots in the TECO Maritime Group, a group that has provided technology and repair services to the global shipping industry since 1994. For more information, please visit www.teco2030.no.
Subscribe to our company announcements
Keep up to date with our company announcements by subscribing.
Visit our pressroom and see more company announcements from us.
Our pressroom